Willie Mullins' Galopin Des Champs heads the Cheltenham Gold Cup betting, but our very own Gold Cup winner Mick Fitzgerald thinks he has found one to defeat the favourite.
Galopin Des Champs maintained his outstanding form with victory in the Irish Gold Cup, and will be looking to bag a second Festival success after falling when having the Turners' Novices' Chase at his mercy at last year's meeting.
Despite the fairly prohibitive odds (7/4f), there's plenty to take him on with, including the 2021 winner Minella Indo, 2022 winner A Plus Tard, King George hero Bravemansgame and Grand National champion Noble Yeats.
Mick Fitzgerald has studied four of the biggest runners heading for the Cheltenham Gold Cup…
Galopin Des Champs
Key facts
Trainer: Willie Mullins
Jockey: Paul Townend
Age: 7
Odds: 7/4
Big-race wins: Martin Pipe (2021), Boylesports Gold Cup (2022), John Durkan Chase (2022), Irish Gold Cup (2023)
There is just no doubting him being super talented, even from as early back as the day he made his debut over fences. I don't think I've ever seen a horse make a debut over fences like that! He was class.
Every step of the way as a novice chaser, he just looked so good, even at Cheltenham last year before he fell at the last in The Turners' when he had the race wrapped up. He just has that 'wow factor' about him.
He's an exciting horse when he's on it. That said, the Gold Cup is not just about that wow factor and watching him at Leopardstown last time in the Irish Gold Cup, ultimately, he was just too good for them, but there were times in the race you weren't sure, just in how he was travelling at times.
Willie Mullins has two good darts to throw at this year's Cheltenham Gold Cup and also nominates his handicap dark horse for the Festival

There is no doubt in my mind, that if you rode this horse like a Vautour in a Ryanair, they wouldn't see which way he went because you could ride him and attack and I just don't think there is a horse who could live with him if he's ridden like that.
He's a lot more relaxed this season, though, which will help with the Gold Cup trip, but does he actually look better for that [being more relaxed]? I'm not sure.
There is only one man who will know if Galopin Des Champs will switch off for the prolonged period of a Gold Cup, and that's Paul Townend.
Paul's got a tough job on his hands because he's got to ride him conservatively, but still make him jump. That would be more of a nagging doubt for me in the Gold Cup than anything else, because we know he is absolutely good enough to win.
When I go down through the potential Gold Cup runners, I don't see horses in there who will turn it into a slog and I just think Galopin Des Champs would be an easier ride off an end-to-end gallop, but at the same time, that kind of scenario will really test his stamina.
It's a bit of a catch-22 in my mind. If the race does play out with a stop-start kind of gallop, I'm just not sure the horse is as good under those conditions. I might look a bit silly now in saying this, but I think it's a solid Gold Cup.
Patrick Mullins is adamant the Gold Cup trip of three miles and two furlongs at Cheltenham should prove to be no issue for favourite Galopin Des Champs

I went through all the races the likes of A Plus Tard, Ahoy Senor, Bravemansgame, Conflated, Minella Indo, Noble Yeats and Stattler won, and between them, it's a serious staying chase resume, on paper.
Looking at Galopin Des Champs's price (6/4), on Gold Cup day, I think we'll have plenty of people willing to take him on. We should mention that Willie (Mullins) knows this horse intimately and he has unwavering faith in him, both as a horse and also with regards staying the trip.
We should take that on board because Willie has won Gold Cups before and had many good horses beaten in it, including Florida Pearl, but you get the impression Galopin Des Champs is right up there with all of them.
A Plus Tard
Key facts
Trainer: Henry de Bromhead
Jockey: Rachael Blackmore
Age: 9
Odds: 15/2
Big-race wins: Savills Chase (2020), Betfair Chase (2021), Cheltenham Gold Cup (2022)
We probably won't know his true wellbeing until he runs; no doubt that is the question mark with last year's hugely-impressive winner.
Going into this year's race, if you're are a supporter, it's a bit of 'in Henry (de Bromhead) we trust'. It's not been all plain sailing for this horse, even before he was pulled up in the Betfair Chase this season.
Given his ability, he doesn't have a string of ones next to his name, and has actually never won two races in a row, but to be fair, he is always pretty consistent.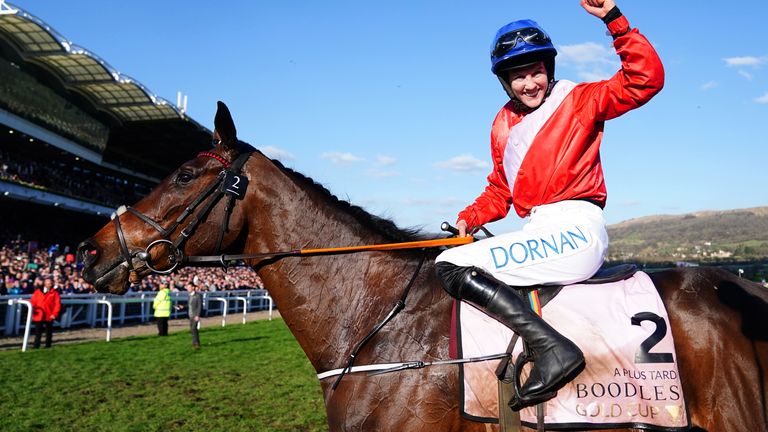 When A Plus Tard is good, he's very good and it's been that way from early in his career. I think back to that Cheltenham Festival handicap success in the Close Brothers Novices' Handicap off 144, where he bolted up by 16 lengths.
It was a handicap, but that was an incredible performance, one of a Graded horse. The following two Cheltenham Festivals, I was disappointed with him, because I thought he'd win the 2020 Ryanair (third to Min) and I thought he'd win the 2021 Gold Cup (second to Minella Indo), but last season we saw A Plus Tard at his brilliant best in the Betfair Chase at Haydock and finally, in the Gold Cup, where he was even better again.
A return to that form in last year's Gold Cup puts him bang in the middle of everything, at a huge price, and in truth, probably the horse to beat; and so, he would be my selection in the race.
He's had one bad run where they found out he was sick when he came back from Haydock and he's won a Gold Cup off a break by 15 lengths, we shouldn't forget that.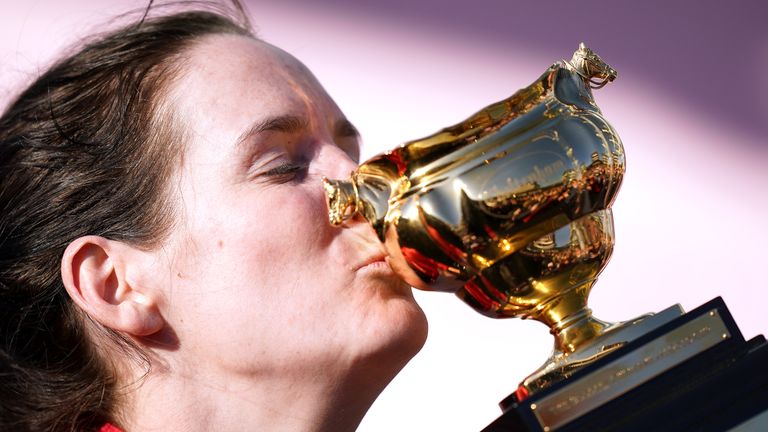 It's not easy to do, but if you take away this season's Betfair Chase run, suddenly you look at this horse's form in a different light. Last year he beat a previous Gold Cup winner (Minella Indo) by a street, with Protektorat back in third, who has given the form a boost, and two runs previous to that, he won the Betfair Chase by 22 lengths.
In between, Galvin did beat A Plus Tard in the Savills, but the Haydock victory was so impressive, it maybe left a mark. People ask would I have got a run into A Plus Tard on the back of that disappointing last start, but Henry (de Bromhead) has done a pretty good job with this horse so I am inclined to follow his lead and trust him.
Henry clearly feels it's too big of a risk to run him and probably just didn't want the horse doing too much before his big day, given he won so well fresh last season.
I think it's hard to compare horses through the ages, and I don't like doing it, but it's interesting to note the BHA handicappers have still got A Plus Tard (180) 5lb clear of Galopin Des Champs, and given how highly many rate Willie's horse, that gives you some context for what A Plus Tard can do when he is right.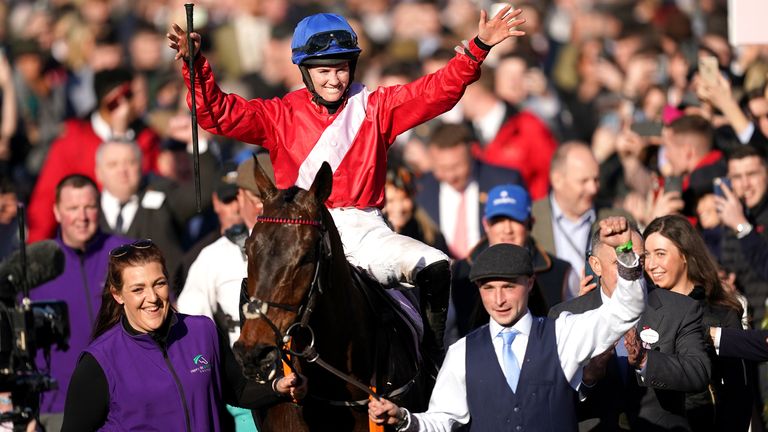 You've got to hope and trust the horse is coming back, but if he is back, A Plus Tard is vying for favouritism for my money.
We are in the dark, no doubt, but it will be worth hearing Henry talk about him on the lead-up to the race along with watching the betting.
Some positive ripples in the market would be great to see. Like we saw with Shishkin, these class horses deserve a chance when they underperform, and who knows, maybe we might get a similar result. A string of bad runs would be a concern, but A Plus Tard has only had one of those.
Bravemansgame
Key facts
Trainer: Paul Nicholls
Jockey: Harry Cobden
Age: 8
Odds: 8/1
Big-race wins: Challow Hurdle (2020), Kauto Star Novices' Chase (2021), Charlie Hall Chase (2022), King George VI Chase (2022)
As a good King George winner, we've got to include Bravemansgame as I thought he was very impressive at Kempton. He really was a good winner, but at the same time, there is no doubt he needs to come forward again to win a Gold Cup.
We must remember though, the man who trains him (Paul Nicholls) has proven himself time and time again with these good staying chasers, consistently working his magic with them. Paul will need to be at his best again though, because when I look at Bravemansgame's form, he looks a much better horse in the first half of the season.
Every season, time after time, the horse has looked really good up to the turn of the year, but well below that level come the spring festivals.
Part of the reason may well be the horse was lacking physically. I remember being down at the start a few times when Bravemansgame has run and it's amazing watching him.
Jockey Harry Cobden could be in for a big week at the Cheltenham Festival but is feeling calm ahead of his rides on Paul Nicholls' stars Hermes Allen and Bravemansgame

The year he won the Challow Hurdle at Newbury, he walked past me, and I thought 'Wow! That is a racehorse!'; he was strong, a tank, a proper horse, but then when I saw him at Cheltenham when Bob Olinger beat him, it was like I was looking at a different horse.
I just thought this horse, mentally and physically, couldn't stand up to training for a whole season. Before that Ballymore, he looked nervous, he was shaking and two minutes before the race, the horse was melting before my eyes.
So, this season, you can see why they had the red hood on him going to the start before the Charlie Hall and the King George. Paul Nicholls is an ever-evolving character, and the all-time great trainers do evolve over time, they don't stand still and he's trying different things with this horse to get the best out of him.
Like this season, going into the spring, Paul is bringing Bravemansgame fresh to Cheltenham so I can't wait to see if that works, and I can't wait to see this horse before the race, just to see how he looks.
Nicholls says stable star Bravemansgame is looking 'fantastic' ahead of his run in the Gold Cup

I was down in Ditcheat recently doing some filming for Sky Sports Racing and, I've got to say, Bravemansgame looked incredible, holding his condition really well and just generally looking in great form so I'm starting to think mentally and physically he is becoming the full package now as an eight-year-old.
Paul is also convinced, convinced, this isn't the same horse as last year in that he is much better. We saw Bravemansgame's talent in the King George, saw it in abundance really, because a lot of things went wrong for him in that race and he still won well.
L'Homme Presse made life very tough for him jumping into him which also meant he had a wide trip; you've got to upgrade the performance after those two things.
I know Harry (Cobden) said he needs a bit of space, which may be at a premium if we get a big field, but Bravemansgame's jumping will be a huge help. If the same horse that won the King George turns up on Gold Cup day, he is a player, but I do think he needs to improve again to win.
Noble Yeats
Key facts
Trainer: Noble Yeats
Jockey: Sean Bowen
Age: 8
Odds: 10/1
Big-race wins: Grand National (2022)
As a Grand National winner, we know Noble Yeats will stay, but in some ways, will he stay too well? I went back and watched him in the Ultima Handicap Chase at last year's Festival, the race he ran in before the Grand National, and it's amazing when you watch races back, the memory is refreshed.
They dropped him in and crept around, but when Sam Waley-Cohen needed to make up ground, he wasn't able to. I just worry when he wants to improve his position in the Gold Cup, he won't be able, although the Noble Yeats of now is obviously a better horse than the one that ran in the Ultima.
I don't know for sure, but I think they will put the cheekpieces back on him that he wore in the Grand National; they were on for the first time that day and haven't been on since, which is kind of interesting and suggests they are aiming for the big day with him.
I think they'll also have to ride him handier, make more use of him, because if they ride him in the pack and they go a stop-start gallop, I can see him being tapped for toe at the wrong time before running on strongly.
Jockey Sean Bowen says he has exciting rides to look forward to at the Cheltenham Festival, headlined by Grand National hero and Gold Cup contender Noble Yeats

Remember the year Santini finished second to Al Boum Photo in first-time cheekpieces in the Gold Cup? I can see a similar kind of run from Noble Yeats if we get spring ground.
I suppose the worry is a lack of tactical pace and we might have a decent-size field, which just puts more of a premium on luck in running and space.
Lots of people say, 'oh, it's the New Course, it's big and galloping and you've got lots of time', but believe me, if you ride a horse who lacks a gear, it can be a nightmare and you get done everywhere.
That then puts more pressure on jumping when gaps are closing, and it's why Cheltenham is the ultimate test, every part of a horse's game is scrutinised.
On paper, I don't think it's a bad Gold Cup, but the reason Noble Yeats is second favourite, I think, is because there are question marks about a lot of horses around him in the betting and he's seen as a solid each-way contender, but he wouldn't be my second favourite; I think both A Plus Tard and Stattler should be ahead of him in the betting.
Noble Yeats fans should take positives from Hedgehunter, who ran second in a Gold Cup behind War Of Attrition on good ground, the year after winning the Grand National.
Not only that, but Hedgehunter was 10 when he placed in the Gold Cup, whereas Noble Yeats is still only an eight-year-old.
He's entitled to still be improving, and to be fair, we have seen that this season. Like Stattler, he could do with rain before the Gold Cup, not because he needs heavy ground or anything, but it just slows the others down and brings his stamina into play.