England seamer James Anderson says he has "no interest in retiring" as he prepares to celebrate his 41st birthday on Sunday.
Anderson, his country's all-time leading Test wicket-taker with 690 scalps, headed into the fifth and final Ashes Test with just four strikes in the series at an average of 76.75.
Talk before The Kia Oval finale turned to whether the game could be Anderson's last in an England shirt but he told Sky Sports Cricket on Friday that he is determined to extend his career.
Anderson dismissed Mitchell Marsh in Friday's afternoon session, with the Australia batter inside-edging onto his stumps

Anderson, who removed Mitchell Marsh in London as Australia were bowled out for 295 in reply to England's 283, said: "In terms of retirement I have no interest in going anywhere anytime soon.
"If Stokesy [captain Ben Stokes] and Baz [Test coach Brendon McCullum] say, 'you have not got the wickets we would like', I am absolutely fine with that but I feel like I have a lot more to give.
"I have tried not to listen to the comments. For me that question has been there for the last six years, even longer. As soon as you get into your 30s as a bowler, it's, 'how long has he got left?'
What to watch on Sky Sports this week
Enjoy live action from F1, The Ashes, Premier League and more with NOW
Final Men's Ashes Test – July 27 to 31 – LIVE on Sky Sports Cricket
Premier League Summer Series – from July 23 – LIVE on Sky Sports Premier League
Belgian Grand Prix – July 28 to 30 – LIVE on Sky Sports F1
Seniesa Estrada vs Leonela Yudica – July 29 – LIVE on Sky Sports Action
Netball World Cup – July 28 to August 6 – LIVE on Sky Sports Action
Australia vs New Zealand – July 29 – LIVE on Sky Sports Action
St Helens vs Leeds – July 28 – LIVE on Sky Sports Action
"The last three or four years I feel like I have bowled as well as I ever have. I feel like I have been in so much control, my body is in a good place, my skills are as good as they have ever been.
Anderson: I'd like to decide when I go
"I don't feel like I'm bowling badly or am losing pace or that I am on the way out. I still feel I can offer a lot to this team.
"I'd like to [decide when I go]."
On his struggles in this Ashes series, Anderson added: "We all know as professional cricketers that you go through lean patches. You just pray it is not in the most high-profile series you can play in!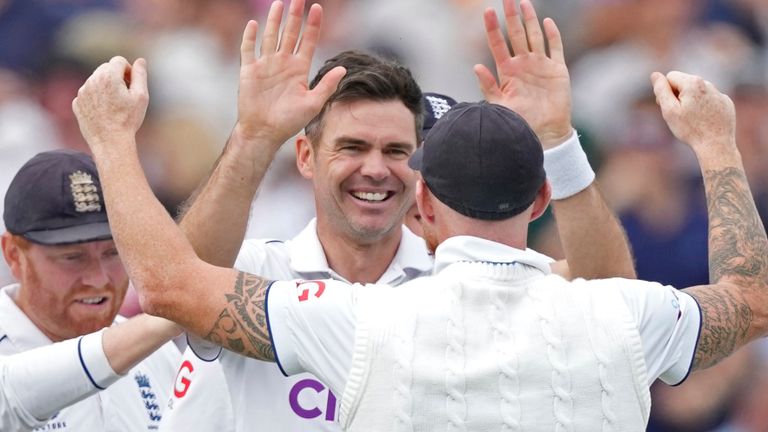 "I try to look at it objectively. Yes, I have not got the wickets but I am still trying to do the job for the team and help the guy out at the other end."
Anderson frequently beat the bat on day two of the fifth Test and was rewarded in the afternoon when Marsh chopped on amid an Australia wobble of 5-70 as the tourists slipped from 115-2 to 185-7.
The 40-year-old added: "I was pleased with the way I bowled all day. I felt in good rhythm and that I was getting the ball to carry through – which is unusual!
Check out the the best of the action from day two of the fifth Ashes Test at The Kia Oval as Australia were dismissed for 295

"I tried to bowl a lot of wobble seam yesterday whereas today I just tried to hit the pitch as hard as I could.
"I got a bit of swing and seam movement now and then but I was just trying to keep it as simple as possible."
Sky Sports Cricket pundit and former Australia captain Ricky Ponting said: "If you look at Anderson skill-wise and the way he has bowled, I think his control has ben good, his areas have been good.
"There might not have been the movement we expected but I think that has been down to the wickets we have played on. He even called the Edgbaston pitch 'kryptonite'."
Watch day three of the fifth Ashes Test live on Sky Sports Cricket on Saturday. Build-up starts at 10.15am with the first ball at 11am. Stream The Ashes and more with NOW.