The Premier League season drew to a close on Sunday – but which trends emerged during the dramatic campaign?
Man City's title triumph driven by physicality
Sky Sports' Nick Wright:
Pep Guardiola's willingness to adapt and evolve has long been one of his greatest strengths but this season he took it to new levels, a mid-season shift from the technical to the physical helping to inspire Manchester City's unstoppable surge to the Premier League title.
It started when he sent Joao Cancelo on loan to Bayern Munich in January. Guardiola used Rico Lewis as an inverted full-back subsequently. He even tried putting Bernardo Silva there. Soon, though, he resolved that City's defensive vulnerability required a different solution.
Guardiola found it by using "proper defenders" right across his backline, fielding a back four of Kyle Walker, Ruben Dias, Manuel Akanji and Nathan Ake for the 2-0 victory over Newcastle in early March, then replacing Walker with John Stones to make it four central defenders in the 1-0 win at Crystal Palace a week later.
"The biggest step this year was that everyone in the back four was a real, real proper defender," Guardiola told Sky Sports. "Win your duel. In our box, win your duel. In the past, we did not have it."
The switch coincided with the 12-game winning streak which propelled City above Arsenal. In the same period, they also overcame Bayern Munich and Real Madrid in the Champions League.
They conceded only nine goals in 20 games in all competitions during that time and the physical prowess of this Manchester City team can now be seen right across the side. "This is the most physical Pep Guardiola team we have ever seen, I think," observed Gary Neville on Monday Night Football this week.
Indeed, the addition of Erling Haaland, an extraordinary physical specimen, means City are transformed offensively as well as defensively, and, over the course of the campaign, Guardiola has shown an increasing willingness to tap into it.
In the 3-1 win over Arsenal at the Emirates Stadium in February, City triumphed despite having only 36 per cent of the possession – the lowest figure ever recorded by one of Guardiola's teams – instead using a direct approach to destroy Mikel Arteta's team, something they repeated in the reverse fixture at the Etihad.
It all seems wholly out of character for Guardiola, whose emphasis on the technical at Barcelona transformed the modern game, but where he goes, the rest inevitably follow. Expect his new emphasis on physicality to ripple around the Premier League and beyond.
Positional fluidity on the rise
Sky Sports' Peter Smith:
This season it felt as though conveying a team's line-up in a traditional formation was failing to tell the real story of how that side would shape up in and out of possession during the match. Those familiar labels of 4-3-3, 4-4-2 and 4-2-3-1 are too simplistic for the more complex positional play coaches are requesting from their players.
From early in the season, Oleksandr Zinchenko's role of stepping into midfield from left-back was giving Arsenal an often decisive numerical advantage in midfield. It was a big part of their fine form in the first half of the campaign.
Later, Rico Lewis showed impressive game intelligence at a young age to perform a similar role from right-back for Man City, spending much of matches in-field, forming part of a box midfield alongside Rodri. In the final part of the season, John Stones was able to do the same, either from a starting position at right-back or, even more eye-catchingly, straight out of centre-back.
It was a trend which caught on, with Trent Alexander-Arnold doing the same at Liverpool and Pascal Gross putting his midfield skills from right-back for Brighton. The ultimate aim was to provide extra bodies in the middle of the park and create overloads in important areas. A search for space. For Alexander-Arnold it seemed a solution to emphasise his brilliant ball-playing ability and limit his vulnerability in one-on-one defensive situations.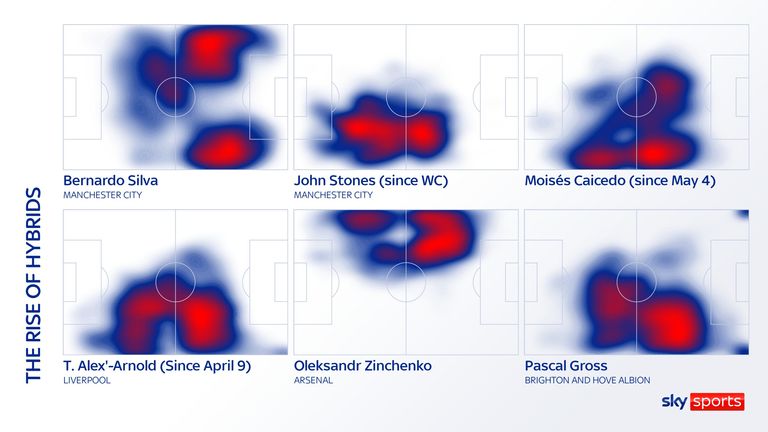 But it wasn't just on the ball where teams were showing flexibility. It's not a new phenomenon for teams to defend in a different set-up to how they attack but this season it became plainly obvious how sides were switching approach in and out of possession. The classic 4-4-2 was given a revival, with sides banking lines of players in front of opposition teams when they lost the ball and proving hard to break down.
It all makes it tricky for journalists and fans to define a team's set-up in a clear, simple row of numbers. But the complex patterns have added a fascinating element to the tactical battles in the Premier League this season.
Promoted teams secure survival
Sky Sports' Laura Hunter:
A top-flight season where all three promoted clubs stay up is practically unheard of. Not only that, they all hit safe ground ahead of schedule. There was no need for nervy ends or final-day jitters – Premier League status was confirmed with games to spare.
Fulham – the yo-yo masters – have finally broken their one-season hoodoo at the third time of trying. The last time they managed to stay in the Premier League for consecutive seasons was over a decade ago.
Considering two of the three clubs in question (which also includes Bournemouth and Nottingham Forest) were odds-on favourites to become relegation fodder when the league resumed after its World Cup hiatus in December, it's quite remarkable all sauntered casually over the finish line. Barely a look in the rear-view mirror.
Fulham boss Marco Silva praised his side's brilliant season as they finish their first season back in the Premier League in 10th place

After winning just three of their first 17 league games following the break for Qatar, Forest were victors in three of their last six. Their achievement amid such a chaotic turnover of players (totalling 29) is astounding. Manager Steve Cooper, in the face of such adversity and, at times, immense levels of criticism, has performed heroics, leading up to Forest defeating title-chasing Arsenal to secure safe haven with a game to spare.
A Robin Hood style uprising. From bottom of the Championship table to a second term among the Premier League elite goes to prove one thing; loyalty can bear spectacular fruit.
The City Ground has been Forest's sanctuary this term, having won 30 of their 37 points on home turf. The community spirit is well and truly alive in Nottingham – they are galvanised and unified over a common cause and the results are there for all to see.
Nottingham Forest boss Steve Cooper reflects on his side's 1-1 draw at Crystal Palace and looks ahead to a busy summer at the club

As for Bournemouth, their sole mission – to avoid relegation – was achieved some weeks back. Again, trust and faith in a manager has prevailed. Gary O'Neil has got it spot on.
Few thought it possible the newly promoted Cherries would be able to retain their position in the division after a rude awakening against Liverpool back in August, which ended in a 9-0 thumping. Hardly a warm welcome back. Cue the big red panic button. Scott Parker lost his job some hours later, but his replacement O'Neil has enjoyed the benefit of the doubt.
Bournemouth have recovered from the brink. As recently as early March, they were teetering precariously on the edge. A sure-fire contender for the drop in 19th. Yet, as a quick glance at the Premier League standings will tell you, Bournemouth are fighters.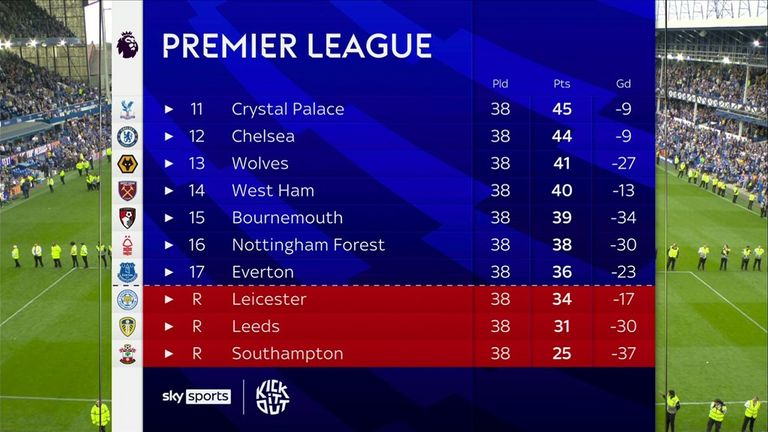 Only Newcastle, Aston Villa, and Manchester City have collected more points than the Dorset-based side since then – an upturn few would have forecast. Their lynchpin, O'Neil, has built around the principle of 'small margins' – "I talk to the lads about trying to grab each centimetre," he told The Athletic recently.
The gulf between them and the drop zone ended up being far greater than centimetres – they ended five points clear. The handbrakes came off and Bournemouth's fluidity and ability on the counter-attack shone. Their cherry on top.
Time-wasting rises to an all-time high
Sky Sports' Ron Walker:
This season's Premier League has been one of the most entertaining at both ends of the table, but it's been a different story during games at times.
Coming into the final week of the season, it is almost certain that 2022/23 will end with the least football played, proportionally, of any campaign in Premier League history.
Back in January, a Sky Sports investigation showed the ball had been in play less than 56 per cent of the game time across the year to that point – an all-time low.
Things have got even worse since. Only 55.7 per cent of each game, on average, has seen any football played. For almost 45 per cent of the time fans are in the stands, the ball is out of play for one reason or another.
Is it just the way of the world? Not at all – fans are being short-changed out of almost five minutes of football per game compared to a decade ago, and the Premier League ranks as the second-worst culprit for ball-in-play time out of Europe's top-five leagues.
When Howard Webb arrived to take over the PGMOL reigns at Christmas, he said he wouldn't follow the lead of the added time-happy Pierluigi Collina and his World Cup directives, but would empower referees to clamp down on the issue.
PGMOL's chief refereeing officer Howard Webb opens up on Friday Night Football about wanting to see improvements in the standards of officiating in the Premier League, VAR and why Bruno Fernandes' Manchester derby goal would now not be given

Six months on, it clearly isn't working yet. Though not all delays are due to time wasting, plenty are. Newcastle are far from the only culprits but, as an example, take an average of three seconds longer over every goal kick than the next-worst offenders, for example, taking a full 36 seconds to get the back into play at a restart. That's a full 14 seconds slower than Liverpool the league's quickest side.
There are plenty of other teams who could be mentioned, including against Eddie Howe's side – and the impetus should be on referees to take a stand rather than to ask teams to stop acting in their own best interests.
Until that happens, the numbers could easily dwindle further still.
Pep's disciples taking over
Sky Sports' Joe Shread:
This season has been another triumphant one for Pep Guardiola – and may even become historic over the next few weeks.
But Guardiola's skill and influence has not just been demonstrated by Manchester City's success, but also the emergence of a number of head coaches who are looking to follow in his footsteps.
The obvious example is Mikel Arteta, who spent more than three years working as Guardiola's assistant at City before going it alone at Arsenal, with several seasons of gradual improvement in north London culminating in a genuine push for the title this time around.
Manchester United have returned to the Champions League under Erik ten Hag, who was in charge of Bayern Munich's B team while Guardiola coached the senior side, and Brighton have qualified for Europe for the first time under Robert De Zerbi, who revealed the City boss inspired him to become a coach.
It's not just in the Premier League where Guardiola's impact can be seen. Burnley charged to the Championship title under Vincent Kompany, the former City captain who overhauled the squad and playing style in his first season as a coach in England.
Meanwhile, Xabi Alonso – who was brought to Bayern by Guardiola towards the end of his playing career – has taken Bayer Leverkusen from the lower reaches of the Bundesliga to Europa Conference League qualification in his first senior coaching job.
All of which is to say that's it's no longer enough to view Guardiola as possibly the most successful coach of his generation – he is also arguably the most influential.
A 4-4-2 renaissance?
Sky Sports' Adam Smith:
The 4-4-2 formation gets a bad reputation these days, commonly being associated with an old, less-tactical style of play – with long balls 'lumped' up to big strikers.
In recent seasons, Burnley and Southampton braved critics and went old-school.
It remains the most used system in the Premier league since 2006/07 – largely because of its dominance in those earlier years.
For context, the 4-4-2 was used 498 times across the division in 2006/07 – no system comes close to matching that dominance in a single campaign since then.
This season, 13 teams started in a 4-4-2 on 62 occasions in the Premier League. In fact, only the 4-2-3-1, 4-3-3 and 3-4-2-1 were used more frequently this term.
So is it making a comeback? Technically, no – quite the opposite. But, it comes with a caveat.
This season marks a record-low for 4-4-2 since records began. However, that is largely down to Sean Dyche's old Burnley side slipping into the Championship and Southampton deviating to different systems.
Meanwhile, managers have increasingly diversified tactical approaches – despite a notable preference for the 4-2-3-1, which gathered momentum from 2009/10, and the 4-3-3, which began to pick up the following season.
The intriguing factor about whether 4-4-2 could make a comeback is how top-half teams have began to deploy the system again: Aston Villa used it 15 times, Brighton three times, Liverpool, Spurs (both twice) and even Manchester City used it once.
Finally, spare a thought for the 4-5-1 formation, which was used 151 times in 2010/11: it was deployed merely seven times this term.
Rebirth of the No 9
Sky Sports' Adam Smith:
Manchester City claimed the Premier League trophy with a false No 9 last season but were on the hunt for a target man in Harry Kane, before turning their attention to Norwegian goal machine Erling Haaland.
The 22-year-old delivered in style with 36 league goals – smashing the record of 34 set by Alan Shearer and Andrew Cole nearly 30 years ago.
Kane still mustered 30 goals in a struggling Tottenham side, which represents his joint-best haul in a single league campaign, having previously reached the milestone in 2017/18.
England strikers Ivan Toney and Calum Wilson also featured in the top five of the goal charts – with Aleksander Mitrovic not far behind, despite his eight-game ban, level with Ollie Watkins.
Marcus Rashford sat sixth on the list after his goal blitz following the World Cup and frequently played up top, while wide forwards Mohamed Salah and Gabriel Martinelli were also among the top seven scorers.
Compare that to last season, when Salah and winger Heung-Min Son shared the Golden Boot with just 23 goals – with Sadio Mane securing fifth spot in the charts on 16 goals.
Only Cristiano Ronaldo and Kane were among the top five goalscorers. Among the top 10, recognised strikers registered 50 goals combined. This season, that tally has soared to 133 – excluding Rashford.
The No 9 is back.
Are right wingers right-footed any more?
Sky Sports' Adam Smith:
Left-footed 'winger' Mohamed Salah has wreaked havoc down the right channel for five years. Left-footed duo Riyad Mahrez and the versatile Bernardo Silva are typically deployed down Manchester City's right side. Bukayo Saka – also left-footed – has been a key component in Arsenal's success this season down the right flank.
The left-footed right winger has become a prominent theme.
In fact, almost all top-half clubs now deploy this very tactic: Antony at Manchester United, Miguel Almiron at Newcastle, Solly March at Brighton and Bryan Mbeumo at Brentford.
Chelsea may not have finished in the top half this term, but the Blues have also recently used Noni Madueke down the right, while West Ham deploy Jarrod Bowen and Harry Wilson has been used at times with similar effect for Fulham.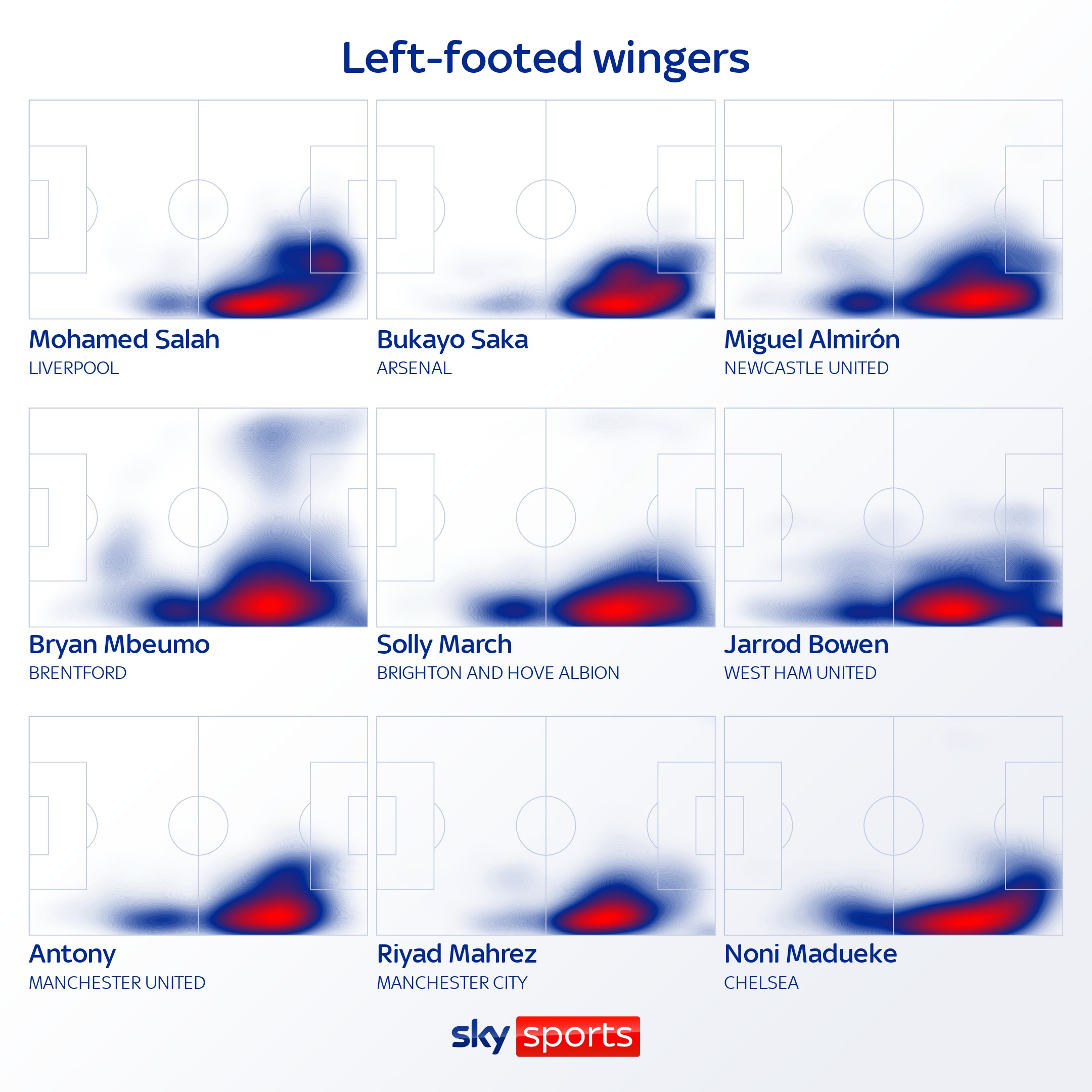 Why? Salah's devastating returns as a wide forward summarise the benefit perfectly: inverted inroads towards the box create more space to fire at goal. The Egypt international's shot map below reveals his skew of shots from right-of-centre areas, while also enabling him to arrive in more central areas.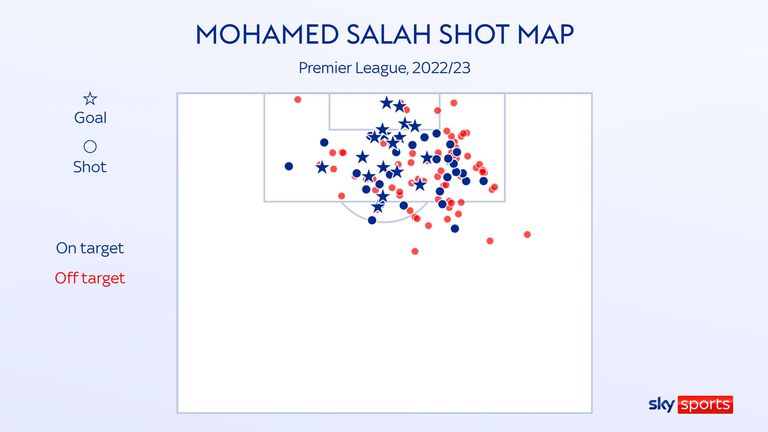 Aston Villa's remarkable offside trap
Sky Sports' Lewis Jones:
Aston Villa are the Premier League Rubik's cube. Since Unai Emery took the job in November, opposition teams have suffered major headaches into how to break through Emery's defensive structure.
In their last 15 matches, Villa conceded just eight goals. They didn't concede more than twice in any of those matches. Emery is potentially building something extremely exciting and the work he has done with his defence is remarkable.
Tyrone Mings and Ezri Konsa are reformed characters from the Steven Gerrard days when clean sheets were hard to come by. Mings has got his England recall, and Konsa can't be too far behind him.
At the heart of this defensive masterclass is their ability to catch players offsides. They trap like no other team. Mings and Konsa are so in sync. It demands the opposition to be perfect with their passes and runs in behind – and even if they manage to break through Mings and Konsa, Emi Martinez is usually there waiting to gobble up as the last line of Villa's defensive structure.
Since Emery took charge, Villa have caught 102 opposition players offside – that's 34 more than the next best of Liverpool, who have been known as the offside kings for the past three seasons but have lost their crown. There is a new offside king in town, and his name is Unai.
Manager sackings at all-time high
Sky Sports' Adam Smith:
A record-breaking 13 managers have been axed in the Premier League this season.
Ten of those departures were at clubs fighting at the wrong end of the table: Bournemouth, Wolves, Aston Villa, Everton, Crystal Palace, Leicester, Southampton (Ralph Hasenhuttl and Nathan Jones) and Leeds – who axed Jesse Marsch and Javi Gracia – have all looked to harness the new-manager bounce amid a relegation battle.
Graham Potter's voluntary departure from Brighton to replace Thomas Tuchel at Chelsea in September – before being axed himself in April – extends the number of managerial changes during this campaign to 14, excluding caretakers – which is four more than any other season in Premier League history.
Did the sackings generate 'manager bounces'? It hasn't appeared to help relegated Southampton, Leeds and Leicester. Meanwhile, Chelsea have finished one place lower than where they stood when the club axed Potter.
Conversely, Aston Villa, Crystal Palace, Everton, Bournemouth and Wolves appear to have improved since sacking their managers. Notably, the majority of those departures came earlier in the season – so does timing improve the impact?
Sky Sports scoured the archives to document every instance when a Premier League team has sacked a manager while in the relegation zone, according to positions listed on Transfermarkt, and the eventual outcome – to uncover whether it improves clubs' chances of survival.
Excluding this season, only 31 of 73 clubs ended up avoiding the drop after axing their manager in the drop zone – which equates to 42 per cent. That means clubs still have a 58 per cent chance of relegation after axing a manager mid-season.
All figures only include the first managerial change while in the relegation zone during respective seasons.
But this campaign proved to be the sacking season and the manager tightrope is more precarious than ever before.