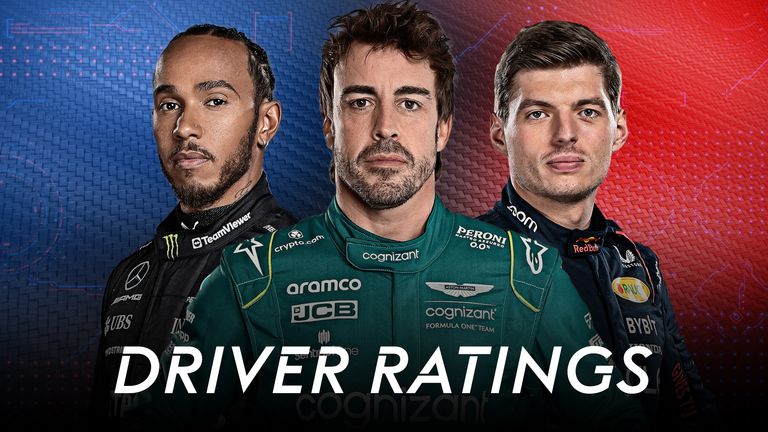 As the 2023 Formula 1 season takes an early pause, Sky Sports F1 assesses the drivers' performances across the first three races.
Max Verstappen – Red Bull
Championship position: 1st
Rating: 8/10
Race finishes: 1st (Bahrain), 2nd (Saudi Arabia), 1st (Australia)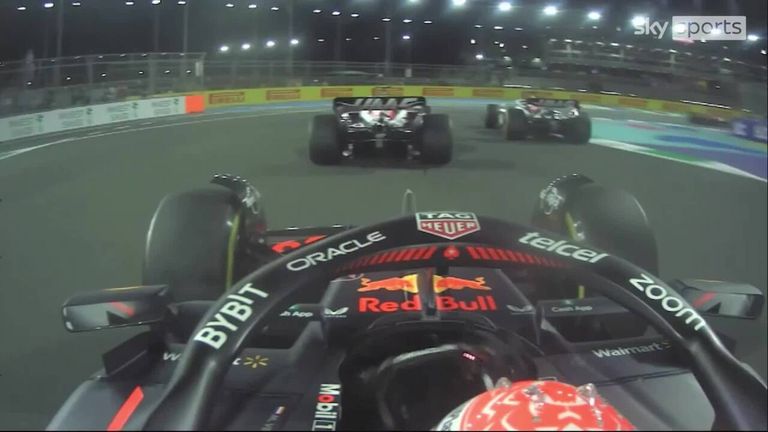 Check out all of Max Verstappen's overtakes from the Saudi Arabian Grand Prix where he started on P15 and finished on P2.
The reigning world champion has made an extremely strong start to his quest for a third successive drivers' title.
While he is driving what is very clearly the best car out there at the moment, he has hardly put a foot wrong, and would likely have three victories from as many races if it hadn't been for the driveshaft failure that knocked him out of Q1 in Saudi Arabia.
The only areas of imperfection for Verstappen have been failing to overhaul team-mate Sergio Perez during the second half of the race in Jeddah, and some poor getaways from the start line in Australia.
He was overtaken by both Mercedes drivers at the start, but when it mattered most at the final restart, was able to hold off Lewis Hamilton to ensure a maiden victory at Albert Park, and his 16th triumph in the last 22 F1 races.
Sergio Perez – Red Bull
Championship position: 2nd
Rating: 7/10
Race finishes: 2nd (Bahrain), 1st (Saudi Arabia), 5th (Australia)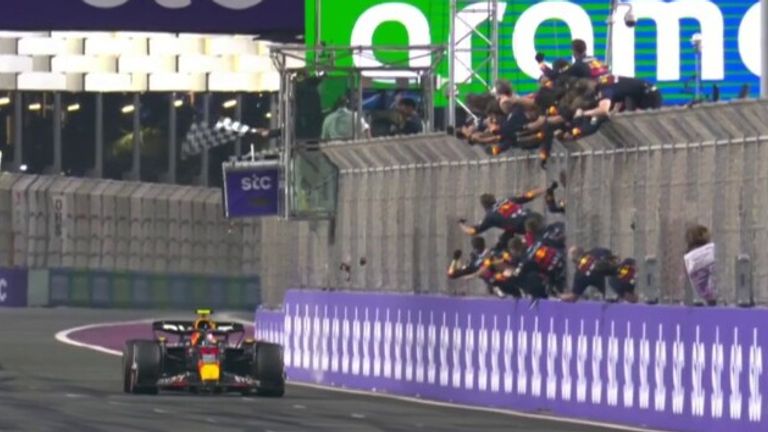 Red Bull driver Sergio Perez takes the win at the Saudi Arabian Grand Prix, with team-mate Max Verstappen following behind.
The Mexican – and his prospects of challenging Verstappen for the world championship in their dominant RB19 – was the talk of the paddock in Melbourne ahead of the Australian Grand Prix.
That was because Perez had made a strong start to the season, solidly following Verstappen home for a Red Bull one-two in Bahrain, before holding off his team-mate in Jeddah to add to his catalogue of street-circuit victories.
However, it all went wrong on Saturday at Albert Park, as a disastrous practice session in which he repeatedly went off track, was followed by a Q1 error which left him starting from the back of the field.
He produced a decent recovery effort and was aided by the late carnage to finish fifth, but it was ultimately a weekend that will have left many wondering if Perez can cope with the pressure of going head-to-head with Verstappen for an entire season.
Fernando Alonso – Aston Martin
Championship position: 3rd
Rating: 9/10
Race finishes: 3rd (Bahrain), 3rd (Saudi Arabia), 3rd (Australia)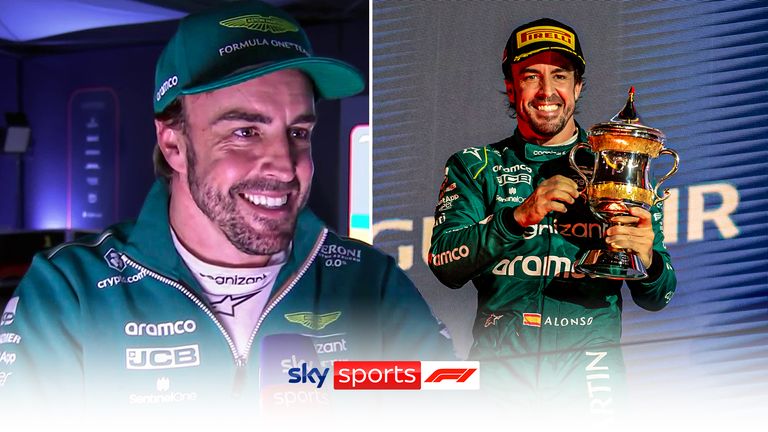 Fernando Alonso was ecstatic after finishing on the podium in his first race with Aston Martin.
The feel-good story of the season so far has undoubtedly been the rise of Aston Martin, spearheaded by the wily old Spaniard, Fernando Alonso. The 41-year-old surprised many by leaving last year's midfield front-runners Alpine for the team that had finished seventh, but his decision has swiftly proven to be a good one.
He lit up the opening race of the season in Bahrain by recovering from a poor start to overtake George Russell, Lewis Hamilton and Carlos Sainz for a podium.
Just about the only mistake Alonso has made was when he lined out outside the margins of his grid box when starting from second in Saudi Arabia, but he drove a strong race to hold on to third ahead of the Mercedes despite having to serve a five-second penalty for his mistake.
There was additional drama as he was given another penalty, which temporarily demoted him below Russell, for the rear jack having touched his car while he served the original penalty, but the FIA upheld an Aston Martin appeal and Alonso was eventually able to celebrate his 100th podium.
While he may have been disappointed to finish behind both Mercedes cars in Qualifying in Melbourne, Alonso produced a strong race to push Hamilton all the way for second, before needing a little bit of help from the FIA once more as he was reinstated to third having been taken out by Carlos Sainz in the chaotic late restart.
Lance Stroll – Aston Martin
Championship position: 6th
Rating: 7/10
Race finishes: 6th (Bahrain), DNF (Saudi Arabia), 4th (Australia)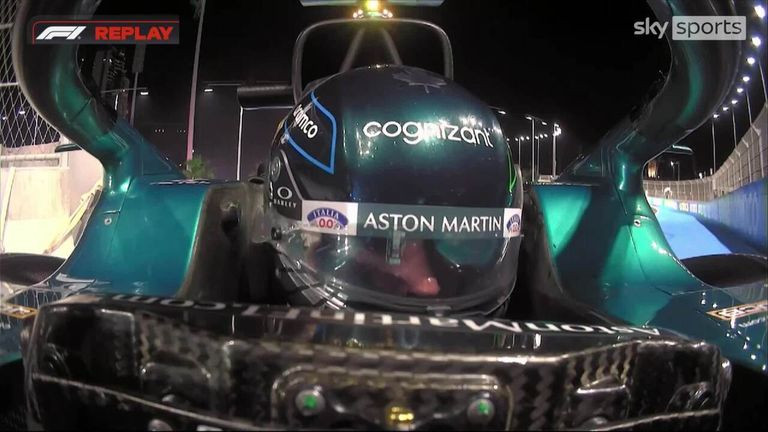 Aston Martin driver Lance Stroll brings out the safety car after being told to stop by his team at the Saudi Arabian Grand Prix.
If there were ratings for bravery, Stroll would undoubtedly be at the top of them after remarkably recovering from severe injuries suffered while cycling shortly before the start of the season to make it into the cockpit in Bahrain.
Having missed pre-season testing due to a broken wrist, among other ailments, Stroll hopped straight in the impressive green machine to qualify eighth and finish sixth, earning the respect of the entire paddock.
While he hasn't quite been able to keep up with Alonso's brilliant pace, Stroll was on for another solid points haul in Saudi Arabia when an engine failure took him out of the race.
It was another solid outing in Melbourne, as he benefitted from the late drama to finish behind Alonso in fourth.
The question for Stroll is whether he has another gear to go when the season resumes at the end of April, given he will have finally had time to properly recover from those injuries.
Lewis Hamilton – Mercedes
Championship position: 4th
Rating: 7/10
Race finishes: 5th (Bahrain), 5th (Saudi Arabia), 2nd (Australia)
Ride onboard with Lewis Hamilton and Fernando Alonso as the former team-mates battled it out in the Bahrain Grand Prix.
It's been a somewhat turbulent start to the season for the seven-time world champion.
He's had to cope with the realisation that, for a second successive season, his team appear to have failed to provide him with a car capable of competing for a record eighth drivers' title, a split with his long-time performance coach Angela Cullen, and continued speculation over his future with his current Mercedes deal set to expire at the end of the year.
While it must be noted that the second two of those three issues would appear to be very much within his control, there's a lot going on, which has potentially made it difficult for him to focus on the track.
While he is 3-0 down to team-mate George Russell in Qualifying, Hamilton has been impressive on Sundays, with impressive starts helping him finish higher than where he started in all three races.
The pick of his performances was undoubtedly in Australia, where he used all of his experience to fend off Alonso from behind at the start, before turning defence into attack as he overtook Verstappen.
Once the race settled down, Hamilton showed great determination and skill to hold off Alonso for second, despite the Spaniard appearing to have a slightly faster car on the day.
George Russell – Mercedes
Championship position: 7th
Rating: 8/10
Race finishes: 7th (Bahrain), 4th (Saudi Arabia), DNF (Australia)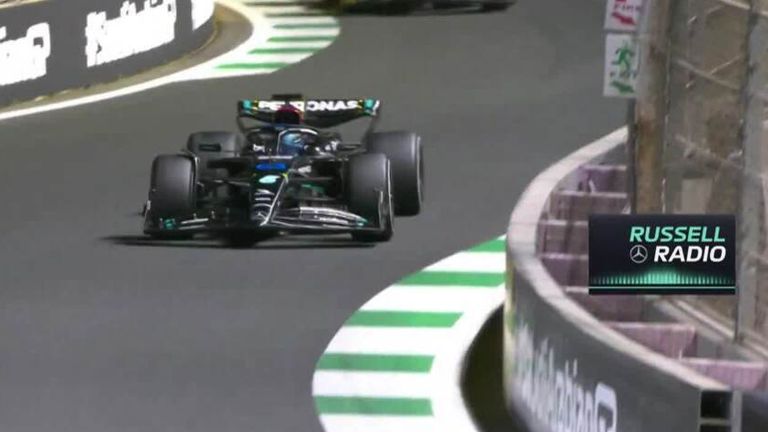 Mercedes driver George Russell's battle for P3 followed some confusion around Aston Martin's Fernando Alonso's five-second penalty at the Saudi Arabian Grand Prix.
Out-qualifying Lewis Hamilton three races in a row itself is an incredible achievement, but the man known as 'Mr Saturday' for his one-lap speed has also produced some impressive driving on Sundays.
He would have been a bit disappointed by the opening race of the season, as he lost out to Hamilton at the start, and was later passed by Stroll to finish seventh.
However, the 25-year-old responded with a near-perfect weekend in Saudi Arabia, maximising the Mercdes' performance to qualify third and finish fourth, losing out only to a charging Verstappen.
Ironically, Russell's best performance of the season was the one that lasted just 18 laps in Australia. After qualifying on the front row, he passed Verstappen at the first corner and could have been in with a chance of victory if the safety car situation he pitted under hadn't developed into a red flag.
Russell calmly dealt with that disappointment to quickly rise back up from seventh to fourth, before an engine failure brought his weekend to a premature end. He might be behind Hamilton in the championship, but he is giving his team-mate a lot to think about.
Carlos Sainz – Ferrari
Championship position: 5th
Rating: 6/10
Race finishes: 4h (Bahrain), 6th (Saudi Arabia), 12th (Australia)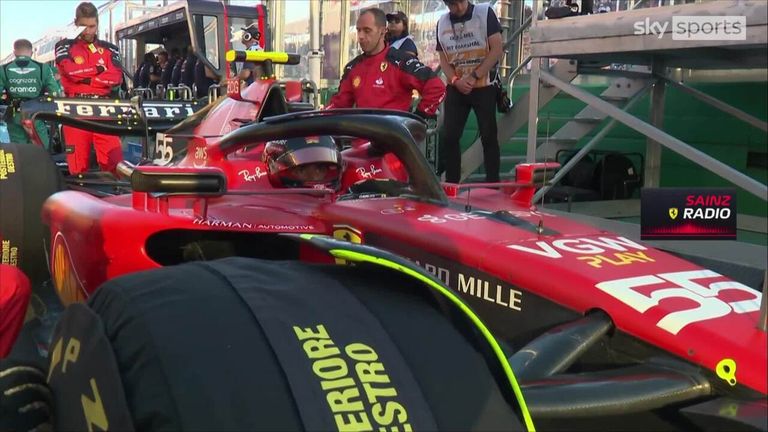 Carlos Sainz is furious at being handed a five-second time penalty for causing a collision with Fernando Alonso.
It's been a pretty abysmal start to 2023 for Ferrari, who had spent the off-season talking a very good game about challenging Red Bull and Max Verstappen for titles.
They are nowhere near doing that, and the disappointment at their lack of pace seems as though it may have spilled over into their drivers' performances.
Carlos Sainz has been reasonably solid, but a bit like his team, hasn't really taken the step forward he hinted at over the winter. The Spaniard was out-qualified by team-mate Charles Leclerc at the first two races, and likely would have finished behind him if it weren't for reliability issues suffered by the Monegasque.
Sainz managed to get ahead of Leclerc on the grid in Australia, but only after confusion at Ferrari saw the pair both left unhappy with the way their final qualifying events went.
Then, with Ferrari's hopes of scoring points resting solely on him (more on that in a moment), Sainz made a mistake at the final standing restart, taking out Alonso and consequently receiving a five-second penalty that would see him fall from fourth to 12th at the end of the race.
While the consequences of the penalty were undoubtedly very harsh, Sainz made a significant error at a crucial moment that resulted in a demoralising pointless weekend for the Italian team.
Charles Leclerc – Ferrari
Championship position: 10th
Rating: 6/10
Race finishes: DNF (Bahrain), 7th (Saudi Arabia), DNF (Australia)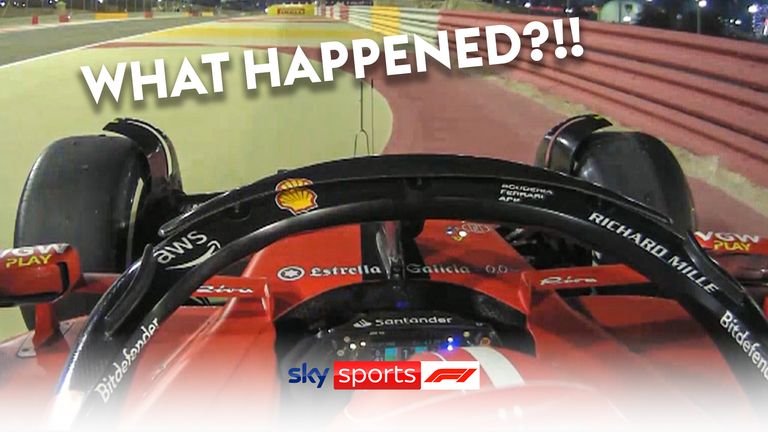 Ride onboard with Charles Leclerc as his Ferrari lost power during the season-opening Bahrain Grand Prix.
After pushing Verstappen hard in the first half of last season, the idea was that Charles Leclerc would be able to take the Dutchman the distance this time around.
Instead, the start of the season for Leclerc has been far more reminiscent of the negative moments of his 2022 campaign, with the failure of two control electronic units in Bahrain forcing him into retirement and a 10-place grid penalty next time out in Saudi Arabia.
He did his best to recover in Jeddah, qualifying second before the penalty was applied, and charging through the field before the timing of a safety car, and a lack of instruction from his team, damaged his hopes of advancing further as he ultimately finished seventh.
A rare poor qualifying display followed in Australia as he was left to start seventh, before a first-lap collision with Stroll – adjudged by stewards to have been a racing incident – left him beached in the gravel trap and out of the race.
"It is the worst start to a season ever," Leclerc surmised.
Lando Norris – McLaren
Championship position: 8th
Rating: 7/10
Race finishes: 17th (Bahrain), 17th (Saudi Arabia), 6th (Australia)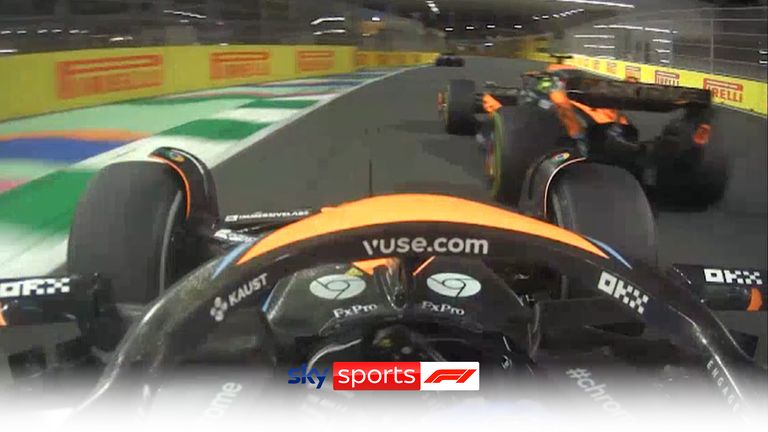 Ride onboard with both McLaren drivers, Oscar Piastri and Lando Norris as they battled for position at the Saudi Arabian Grand Prix.
If the Ferrari drivers think they have it bad, they might want to speak to Lando Norris. McLaren's performance over the last 12 months has led their top brass to make major changes, with technical director James Key out and a new structure being put in place by team principal Andrea Stella.
Norris, considered by many to be among the elite drivers on the grid, does not belong on a team fighting to get out of Q1 each week, but that's where McLaren are at the moment.
After producing a strong effort to qualify 11th in Bahrain, he endured a farcical opening race of the season, as an engine pressure issue meant he had to pit six times before eventually finishing last among the cars that finished the race.
He compounded the car's problems by hitting the wall in Q1 in Jeddah, before an unfortunate flying piece of debris from his team-mate's car compromised his race and led to another 17th place finish.
However, with Norris facing questions about whether he was overdriving the car, the Brit produced a brilliant effort – aided by a bit of safety car and red flag fortune – to finish sixth in Australia.
Norris offered a reminder of his special talent by pulling off the rare feat of holding up a Red Bull, as he kept Sergio Perez behind him for a significant period in the middle of the race.
Oscar Piastri – McLaren
Championship position: 13th
Rating: 6/10
Race finishes: DNF (Bahrain), 15th (Saudi Arabia), 8th (Australia)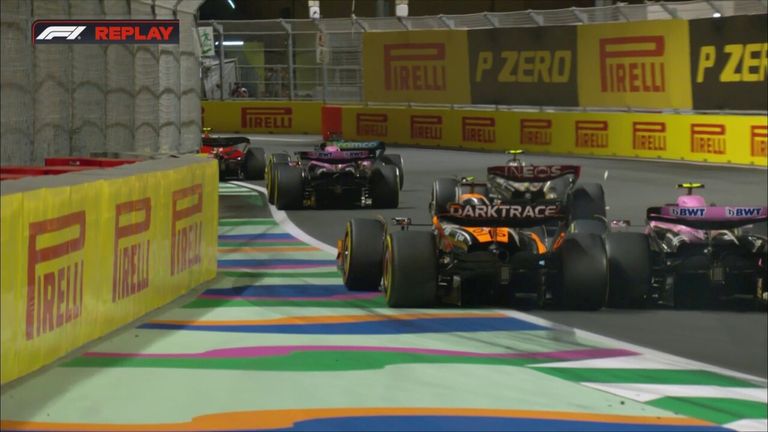 Oscar Piastri loses a key part of the front wing during the opening moments of the Saudi Arabian Grand Prix.
Given he is driving the same troublesome McLaren as his team-mate, it has been quite difficult to judge rookie Oscar Piastri on his first three races in the sport.
There are extremely high expectations around the Australian, who made his F1 entry in such controversial circumstances after shunning Alpine to join McLaren.
Much like Norris, the car ruined his first race of the season as electronic failure saw him retire in the early stages.
There was a flash of potential as he qualified eighth in Saudi Arabia, but a lack of experience perhaps contributed to a first-lap contact that ruined his race before he ultimately finished 15th.
Ironically, it was at his least impressive weekend – at his hometown circuit in Melbourne – where he claimed his first F1 points. Much to the disappointment of the passionate home fans, the youngster failed to make it out of Q1, but kept his nose clean in the race before ultimately benefitting from the late chaos to finish eighth.
Esteban Ocon – Alpine
Championship position: 12th
Rating: 6/10
Race finishes: DNF (Bahrain), 8th (Saudi Arabia), DNF (Australia)
Karun Chandhok analyses the onboard view as Alpine's Esteban Ocon and Pierre Gasly collided at the end of the Australian Grand Prix.
The battle between French team Alpine's two French drivers, who have historically not got on, was billed as one to watch going into the season, but a somewhat freakish start to the campaign has made both of their performances tough to assess.
After producing a solid effort to qualify ninth in Bahrain, Ocon endured a nightmare race as he was penalised on three separate occasions before eventually retiring.
He bounced back with a solid weekend in Saudi Arabia to qualify sixth and finish eighth, a place ahead of Pierre Gasly at the only Grand Prix this season where they have both had relatively normal weekends.
In Australia, Ocon had a pretty average weekend until he momentarily looked set to profit from the late chaos, before his team-mate drove into him, sending them both into the barrier and out of the race.
It's been a very messy start to the season, and Ocon, who graciously accepted an apology from his team-mate, will be hoping for slightly less drama when the season resumes.
Pierre Gasly – Alpine
Championship position: 14th
Rating: 6/10
Race finishes: 9th (Bahrain), 9th (Saudi Arabia), DNF (Australia)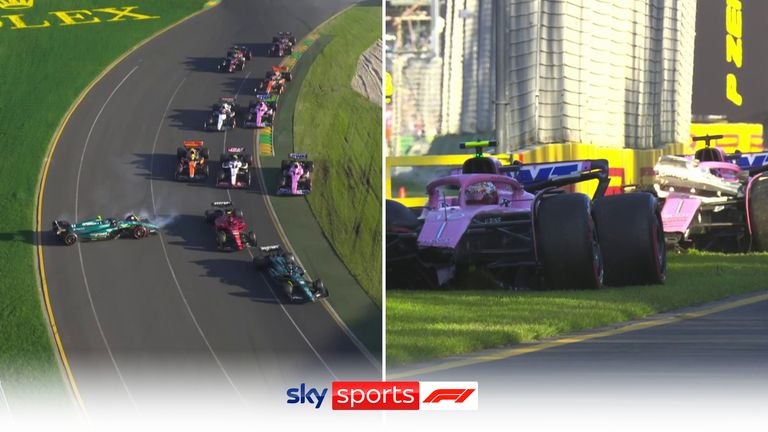 Fernando Alonso is tagged by Carlos Sainz, which causes a long line of accidents at the second race restart and brings out yet another red flag!
There were some Gasly spoilers above, but there is more to get through.
After joining Alpine from AlphaTauri, the former Red Bull driver got off to a terrible start as he qualified last in Bahrain, but then produced a strong recovery to finish ninth and score his first points for the team.
He definitely deserves to be cut some slack as he gets used to a new car, and a steadier weekend followed in Saudi Arabia as he qualified and finished ninth.
Gasly's progress looked to be continuing in Australia as he drove a brilliant race to sit fifth in the closing stages when that fateful red flag was thrown. He got the standing restart all wrong, running off track at Turn 3, before coming back onto the tarmac and unwittingly creating a huge incident with Ocon.
It was a display that suggest there is plenty more to come from the Frenchman, but the sour conclusion dents his rating for now.
Nico Hulkenberg – Haas
Championship position: 9th
Rating: 8/10
Race finishes: 15th (Bahrain), 12th (Saudi Arabia), 7th (Australia)
Highlights of the Australian Grand Prix at Albert Park Circuit.
After three years without a permanent seat in F1, Nico Hulkenberg has made a hugely impressive return to motorsport's top tier.
The experienced German has qualified 10th at all three races, beating team-mate Kevin Magnussen on each occasion.
It hasn't been such smooth sailing on race day, but we can put some of that down to rust. Struggles staying inside track limits ruined the first race for him as 15 seconds worth of penalties saw him finish 15th.
It was déjà vu for Hulkenberg in Saudi Arabia as he once more missed out on the points, with a poor start putting paid to his hopes on this occasion.
However, he finally put it right in Australia, this time driving an extremely solid race to finish seventh, and it could have been fourth (Guenther Steiner will happily tell you) if it weren't for the FIA's decision to reset the order after the series of late collisions.
The one-lap pace is certainly there, and if he can keep up the form of Sunday's showing in Melbourne, several teams might be wondering whether they should have snapped him up while he was left out in the cold for the last few years.
Kevin Magnussen – Haas
Championship position: 17th
Rating: 5/10
Race finishes: 13th (Bahrain), 10th (Saudi Arabia), DNF (Australia)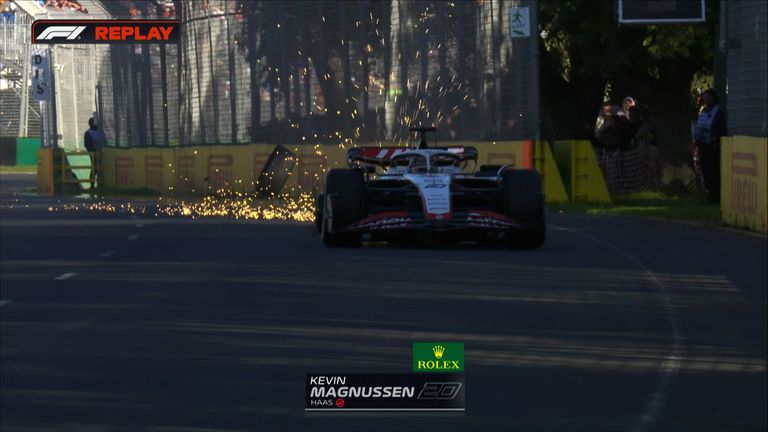 Kevin Magnussen clips the wall and completely loses his right rear tyre which brings out the second red flag of the Australian Grand Prix
Hulkenberg's strong start doesn't reflect so well on his team-mate, Kevin Magnussen.
Having driven the car last year, the Dane will undoubtedly be disappointed to be being outqualified by his new competition.
Magnussen did climb from 17th on the grid to 13th to finish above Hulkenberg in Bahrain, before producing a hugely gritty display to pass his team-mate at the start and finish 10th to claim Haas' first point of the season in Saudi Arabia.
However, he was completely outclassed by Hulkenberg in Australia, before his late crash – from 12th place – triggered the red flag which set up a chaotic finish.
We know how much Guenther Steiner hates seeing his cars damaged, so Magnussen will undoubtedly be under pressure to lift his performance when the season resumes.
Valtteri Bottas – Alfa Romeo
Championship position: 11th
Rating: 6/10
Race finishes: 8th (Bahrain), 18th (Saudi Arabia), 11th (Australia)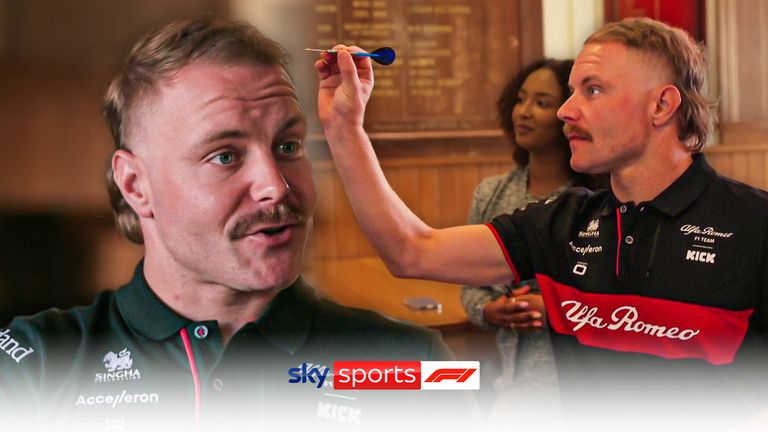 Alfa Romeo's Valtteri Bottas believes his victory at the 2019 Australian Grand Prix was the best of his career.
The mullet man made a highly encouraging start to the season as he finished eighth in Bahrain to get himself and Alfa Romeo off the mark.
However, it appears that result may have been a bit misleading, with thoughts that the Alfa might be challenging towards the front of the midfield having been dispelled with their performances since.
Bottas endured a horror-show in Saudi Arabia as he dropped from his starting position of 14th to 18th and last of those who finished. He suggested after the race that running over debris on the first-lap was the reason for his struggles.
However, it wasn't much better in Mebourne, as Australia's adopted son only qualified 19th before finishing 11th of the 12 cars that saw the chequered flag.
Bottas has now been outqualified by and finished behind his less experienced team-mate at two of the three races, which is not what Alfa Romeo would be hoping for from the driver meant to be leading them.
Zhou Guanyu – Alfa Romeo
Championship position: 15th
Rating: 6/10
Race finishes: 16th (Bahrain), 13th (Saudi Arabia), 9th (Australia)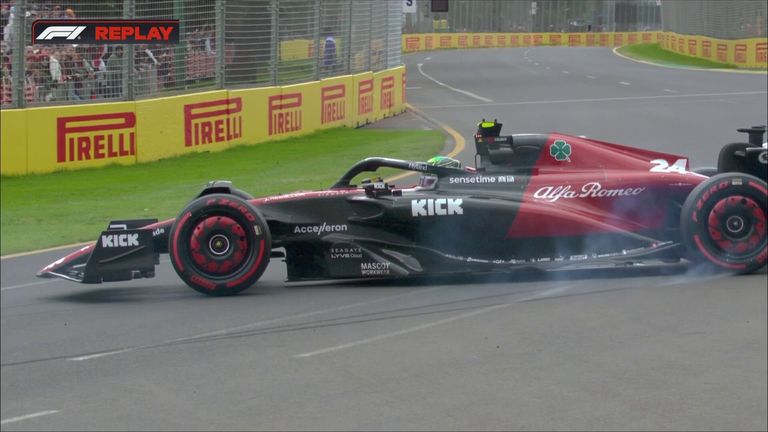 Zhou Guanyu hits the wall in his Alfa Romeo during P3 ahead of the Australian GP but avoids damage.
While he deserves some credit for outperforming Bottas in Saudi Arabia and Australia, it has hardly been inspiring stuff from Zhou Guanyu either.
He profited from the late drama in Melbourne to score his first points of the season in ninth, but the Alfa Romeo looks like it's a car that's going to require madness elsewhere to provide chances for its drivers to score points.
If Zhou, in just his second season in F1, can continue to better Bottas with regularity, he will go some way to securing a long-term future in the sport.
Yuki Tsunoda – Alpha Tauri
Championship position: 16th
Rating: 7/10
Race finishes 11th (Bahrain), 11th (Saudi Arabia), 10th (Australia)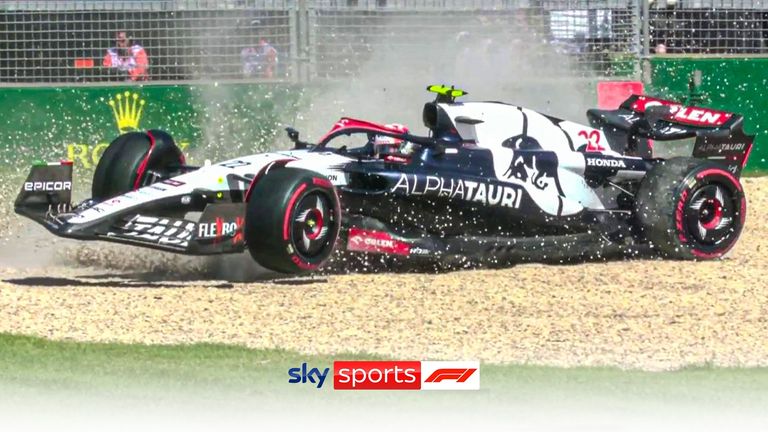 Yuki Tsunoda was fortunate not to crash his AlphaTauri into the wall after spinning off during opening practice around Albert Park Circuit.
Yuki Tsunoda appears to be getting the most out of a poor AlphaTauri car that has received some very public criticism from team principal Franz Tost.
The Japanese driver has done well to make it out of Q1 in two out of the three races, and was unlucky to finish just outside the points in both Bahrain and Saudi Arabia.
While some blame lay with him for a poor start in Bahrain, Tsunoda gave it all in Saudi Arabia, where he let out an anguished cry after being passed by Magnussen for the final points position with only four laps remaining.
If anyone deserved a bit of luck in Australia, it was probably Tsunoda, and he got a (at least cumulatively) well deserved first point of the season following the late carnage.
Nyck de Vries – Alpha Tauri
Championship position: 20th
Rating: 5/10
Race finishes: 14th (Bahrain), 14th (Saudi Arabia), DNF (Australia)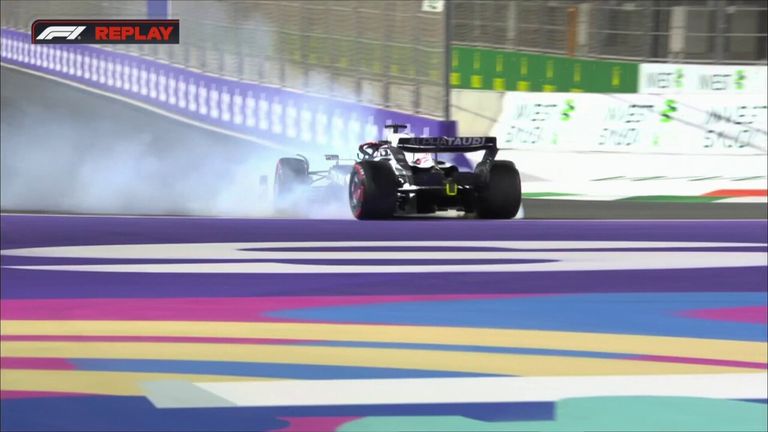 AlphaTauri's Nyck de Vries spins off track in the opening minutes of Q1 at the Saudi Arabia Grand Prix.
Of F1's three 2023 rookies, Nyck de Vries was the one expected to hit the ground running.
It hasn't worked out that way, with the Dutchman failing to make it out of Q1 in his first two races, and then going on to finish 14th in both.
He did advance to Q2 for the first time in Australia, but was unable to make anything of it during the race, eventually being taken out at the final restart by Logan Sargeant, albeit from a non-points scoring position.
While Tsunoda's two years in F1 with AlphaTauri should give him the upper hand over De Vries, Franz Tost will undoubtedly want more from a driver the team changed up its usual way of doing things to sign.
Alex Albon – Williams
Championship position: 18th
Rating: 6/10
Race finishes: 10th (Bahrain), DNF (Saudi Arabia), DNF (Australia)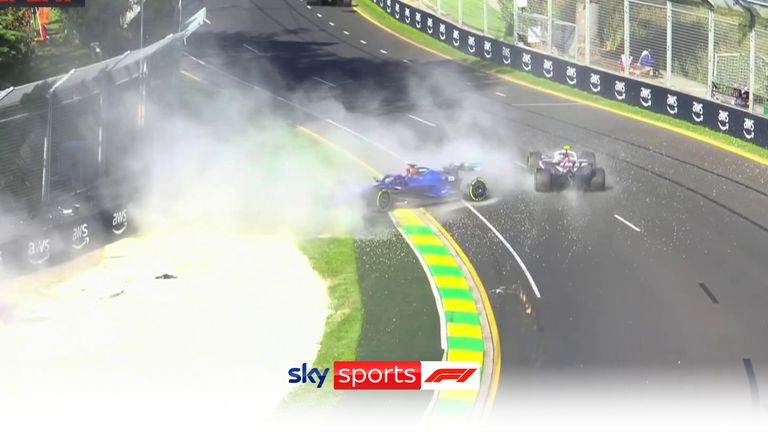 Alex Albon crashes out of the race and brings out the first red flag at the Australian Grand Prix.
There was a lot of doom and gloom around Williams at the start of the season, but they have actually been a little more competitive than many had forecast. That's partly down to the skill of Albon, who drove a brilliant race at the season-opener in Bahrain to claim the final point and get himself and the team off the mark for the season.
Saudi Arabia didn't seem to suit the Williams, and after qualifying 17th, Albon retired after a brake failure.
The former Red Bull driver was in hugely impressive form in Australia throughout practice, and backed it up by qualifying eighth.
He admitted before the race it was going to be a challenge to stay in the points, and that pressure told as he spun on lap seven and thudded into a barrier, bringing out the first red flag of the race.
Albon has the potential to drive further up the grid again in his career, but he needs to avoid moments like on Sunday if he's to earn a second chance with a more competitive team.
Logan Sargeant – Williams
Championship position: 19th
Rating: 5/10
Race finishes: 12th (Bahrain), 16th (Saudi Arabia), DNF (Australia)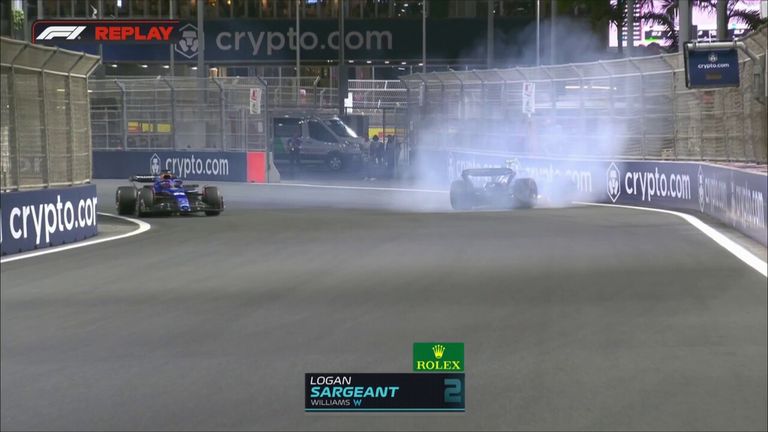 Logan Sargeant was fortunate to avoid hitting the wall after going for a spin during qualifying for the Saudi Arabian Grand Prix.
The American rookie appeared to have defied some of his doubters when he qualified 16th in Bahrain before taking a very respectable 12th in his debut Grand Prix, but it's not been so great since then.
He has yet to make it out of Q1, qualifying last in Saudi Arabia and 18th in Australia.
Sundays haven't been much better either – he ended up 16th in Jeddah, while in Australia he was running at the back of the field when he went into the back of De Vries at the final standing restart.
The incident has attracted attention on social media, with some arguing Sargeant deserves a penalty for it.
While there is plenty of time for him to prove himself, and Albon is a tough measuring stick, Sargeant has work to do to establish himself in F1.
F1 returns on April 28 as we head to Azerbaijan, with the race at 12pm on Sunday April 30, live on Sky Sports. Get Sky Sports
require.config({"shim":{"facebook-sdk":{"exports":"FB"}},"baseUrl":"https://www.skysports.com/","paths":{"skysports_com":"static/skysports_com-cbeba84790848","skysports_digrev":"static/skysports_digrev-7f83c08faab73","skysports_legacy":"static/skysports_legacy-1fc4d92072fe2","skysports_ipad_components":"static/skysports_ipad_components-9347556046b82","skysports_sap":"core/js/../static/js/skysports_sap","requireLib":"static/require-2.1.0-15f03d8ff7a4b","class":"static/class-55bbf080a62c3","countdown":"static/countdown-b387bb40118ae","energize":"static/energize-bac53226fb-93aea85fe6a04","hammer":"static/hammer-a592776ebb-f14662ea8bb34","marker-clusterer":"static/marker-clusterer-3911fd8c83740","moment":"static/moment-1.7.2-33075cfd4ad32","reqwest":"static/reqwest-a845dfd832-dea6ebed2de7d","scroll-pane":"static/ftscroller-280c6900bc-ed5e878ea6190","underscore":"static/lodash.custom-d1cf24f7f366e","adaptive-content":"static/adaptive-content-1fc383fae518a","article-widget-betting":"static/article-widget-betting-7a9641160b027","app-bridge":"static/app-bridge-30b975666386a","article-advert":"static/article-advert-fa40febcc7b0f","article-outbrain":"static/article-outbrain-bba64c5034e96","autocomplete":"static/autocomplete-62886d6993248","autocomplete-lite":"static/autocomplete-lite-76d43ae628a4e","accordian":"static/accordian-87ec71ccbfdd1","betting-lines":"static/betting-lines-31e5cdbecf2bc","bskyb-omniture":"static/bskyb-omniture-a55e003de6b1c","bskyb-omniture-1-2":"static/bskyb-omniture-1.2-ef8627d226d42","calendar-url-builder":"static/calendar-url-builder-863fca999d8c8","carousel":"static/carousel-cfdab6400e999","carousel-lite":"static/carousel-lite-520eccc372b67","close-me":"static/close-me-1dd5bf41462eb","content-stream":"static/content-stream-4ceef3bbd096b","content-swap":"static/content-swap-bdbe29a70d8f9","countdown-widget":"static/countdown-widget-459a93f477481","comments-reply":"static/comments-reply-81d5853bdd03b","cookie":"static/cookie-072824b3a5047","android-notice":"static/android-notice-58d95f174579a","create-audio":"static/create-audio-f77436036a203","dataset":"static/dataset-487d6875fe94d","datepicker":"static/datepicker-b112a28bd151b","datepicker2":"static/datepicker2-d10188465db39","dom":"static/dom-f554c2354ab77","dropdown":"static/dropdown-de4729ed67884","dropdown-select":"static/dropdown-select-bbaa962ff8888","element-listener":"static/element-listener-39391d1341a3c","environment":"static/environment-d24a016d1c736","events":"static/events-e6bde13ac56dc","facebook-sdk":"//connect.facebook.net/en_US/all","form":"static/form-269f9f014d35a","form-chart":"static/form-chart-8e3b2b92c7e77","form-validation":"static/form-validation-76d631ee9c0fb","html-poller":"static/html-poller-db12e18d06d04","implicit-personalisation-display":"static/implicit-personalisation-display-2bc93246729e4","implicit-personalisation-storage":"static/implicit-personalisation-storage-a4eb341b47077","implicit-personalisation-removal":"static/implicit-personalisation-removal-7556598e29ff5","inverted-listener":"static/inverted-listener-07a7ace73331d","iscroll-lite":"static/iscroll-lite-bf22458ad30dc","keyboard-listener":"static/keyboard-listener-f6b30a391df5b","keyboard-view":"static/keyboard-view-5a68be0e6dc00","lazy-images":"static/lazy-images-f5238f2864a52","live-article":"static/live-article-95ba706f060b3","live-cricket":"static/live-cricket-98d8debeb2633","live-sport":"static/live-sport-77265bd8792ec","live-update":"static/live-update-945d95543ad61","live-refresh":"static/live-refresh-5ebefb5206c82","live-refresh-darts-table-controller":"static/live-refresh-darts-table-controller-d6c7bb8af0efe","live-refresh-darts-table-view":"static/live-refresh-darts-table-view-5c4f5e87a3cb2","live-refresh-football-controller":"static/live-refresh-football-controller-461aca93a03fe","live-refresh-football-view":"static/live-refresh-football-view-e722175c6f5eb","live-refresh-fixture-update-controller":"static/live-refresh-fixture-update-controller-1234617fddd04","live-refresh-fixture-update-view":"static/live-refresh-fixture-update-view-aae190ead42d7","live-refresh-live-golf-leaderboard-controller":"static/live-refresh-live-golf-leaderboard-controller-c78264eefa25c","live-refresh-golf-matchplay-controller":"static/live-refresh-golf-matchplay-controller-141ff1ce16821","live-refresh-golf-matchplay-view":"static/live-refresh-golf-matchplay-view-562c7eea1e08b","live-refresh-match-header-controller":"static/live-refresh-match-header-controller-db2b9bbacac74","live-refresh-match-header-football-view":"static/live-refresh-match-header-football-view-f9ce5b3e5bde3","live-refresh-match-header-rugby-league-view":"static/live-refresh-match-header-rugby-league-view-34aa9cc8d67be","live-refresh-match-header-rugby-union-view":"static/live-refresh-match-header-rugby-union-view-a6b7dda93027f","live-refresh-match-stats-controller":"static/live-refresh-match-stats-controller-db8736f4b3e01","live-refresh-match-stats-view":"static/live-refresh-match-stats-view-62f02d64e4cd2","live-refresh-gp-standings-controller":"static/live-refresh-gp-standings-controller-aa40463310354","live-refresh-gp-standings-view":"static/live-refresh-gp-standings-view-b820cc96d1d26","live-refresh-tennis-controller":"static/live-refresh-tennis-controller-5681743439cec","live-refresh-tennis-view":"static/live-refresh-tennis-view-28ddbf0727027","live-refresh-news-list-controller":"static/live-refresh-news-list-controller-ee45762f7dbe7","live-refresh-news-list-view":"static/live-refresh-news-list-view-9c47d574e49d4","live-refresh-livefyre-pinned-controller":"static/live-refresh-livefyre-pinned-controller-44287b34c8506","live-refresh-livefyre-pinned-view":"static/live-refresh-livefyre-pinned-view-a78229a5d01c4","live-refresh-live-table-controller":"static/live-refresh-live-table-controller-053e53c72d2a5","live-refresh-live-table-view":"static/live-refresh-live-table-view-acc034f23d117","live-refresh-live-table-static-view":"static/live-refresh-live-table-static-view-bbff46626848e","live-refresh-masters-live-panel-controller":"static/live-refresh-masters-live-panel-controller-b237958f07549","live-refresh-matchplay-table-controller":"static/live-refresh-matchplay-table-controller-c8d653e8ec9e1","live-refresh-matchplay-table-view":"static/live-refresh-matchplay-table-view-aafd4fb26b14f","live-refresh-ryder-cup-controller":"static/live-refresh-ryder-cup-controller-737295aac3b2e","live-refresh-ryder-cup-view":"static/live-refresh-ryder-cup-view-8975b104d8f84","live-refresh-status-lookup":"static/live-refresh-status-lookup-58cee7af21a4a","live-refresh-switch":"static/live-refresh-switch-122a55d025f32","live-refresh-team-events-controller":"static/live-refresh-team-events-controller-4cb3d870d779b","live-refresh-team-events-view":"static/live-refresh-team-events-view-705c641b015af","live-text":"static/live-text-bbd7665a86991","live-refresh-swingometer-controller":"static/live-refresh-swingometer-controller-b7ade1b72e79a","live-refresh-swingometer-view":"static/live-refresh-swingometer-view-425bcd02cb919","livefyre-auth":"static/livefyre-auth-d30ce39d9f031","livefyre-social":"static/livefyre-social-2ef6165825d8a","load-into":"static/load-into-6af455f20f3bd","load-more":"static/load-more-765d8e57df5c0","load-more2":"static/load-more-05a9bb0171a4e","match-head-switch":"static/match-head-switch-b85e40ff913e7","load-more-inline":"static/load-more-inline-6ee576a87aef2","load-more-once":"static/load-more-once-b9144ab829181","map":"static/map-94fcb75a28607","media-query":"static/media-query-0296e4082a758","now-tv":"static/now-tv-8700a2f7d2f1e","most-popular":"static/most-popular-c1147764fe234","observable":"static/observable-6a091c15b9a4a","open-top":"static/open-top-3eff6bd9d5565","overlay":"static/overlay-b444bdc049b12","overlay-widget":"static/overlay-widget-56d2dc14d6d21","page-nav":"static/page-nav-479fc6b85357e","parse-date":"static/parse-date-6463ce015eee7","page-filters":"static/page-filters-5f38de0bf6eeb","persistent-autocomplete":"static/persistent-autocomplete-8459865f00a4f","polaris-glint":"static/polaris-glint-90f846e5378ec","pikaday":"static/pikaday-ce6be92da6c09","pl-clip-promo":"core/js/modules/core2/pl-clip-promo","poller":"static/poller-b0ddbff69a6a9","polls":"static/polls-2ef656ad8404e","poll-ig":"static/poll-ig-e17180cbcc564","media-playlist":"static/media-playlist-ebc8d2abe3e18","postpone-load":"static/postpone-load-2ae208049e0f1","postpone-load2":"static/postpone-load2-6ad484e51343f","postscribe":"static/postscribe-3737e3c2f9-f3bc808a8b738","pub-sub":"static/pub-sub-9323318c11e08","roadblock":"static/roadblock-edae35c62e3c7","update-content":"static/update-content-b6fc0cfd94862","script":"static/script-27238830c957e","scroll-to":"static/scroll-to-97ec63ad7135c","scribble-article":"core/js/modules/scribble-article","section-nav":"static/section-nav-3aff450804b4f","selectable":"static/selectable-f199bca8d8e16","selectable-list-view":"static/selectable-list-view-3330035b870a5","share-button":"static/share-button-606792a8e7289","site-layout-primary":"static/site-layout-primary-d66ac28011c25","site-nav-desktop":"static/site-nav-desktop-9b1b26877d782","sky-go":"static/sky-go-44fd25b3a1748","skyid-login":"static/skyid-login-9f5140a550d32","is-loggedin":"static/is-loggedin-69dfe40b9565f","sky-sports-date":"static/sky-sports-date-e985472a648e9","squad-selector":"static/squad-selector-45e17c533f3a2","social-map":"static/social-map-8bc134219358b","sp-player":"static/sp-player-5ef6b052166d3","sticky-scroll":"static/sticky-scroll-4ccc7640bda1f","string":"static/string-19008c0fbd461","swipe-nav":"static/swipe-nav-18987ddd0e3ed","subscriber-video":"static/subscriber-video-5d8435b0ea5ab","table-sorter":"static/table-sorter-7d5988301396e","table-sorter-lite":"static/table-sorter-3d24f6a403740","tabs":"static/tabs-b20fcf8e1c825","tabs-lite":"static/tabs-lite-cb10daad481bf","tabs-filter":"static/tabs-filter-1ef8b2a921435","tab-navigation":"static/tab-navigation-68b7c289a7569","team-formations":"static/team-formations-a90922defa046","thumbs":"static/thumbs-0cf143fb65daa","toggle-class":"static/toggle-class-dd3a8c4ce2c14","toggle-switch":"static/toggle-switch-4b14c9522febe","trending":"static/trending-e0bb96dbc6ece","trigger-event":"static/trigger-event-580cd06dcede1","tv-guide":"static/tv-guide-495271c3f333e","update-html":"static/update-html-7913f53b11d6f","update-text":"static/update-text-82964c420cfb8","user":"core/js/modules/user","util":"static/util-b69470ac564b1","validator":"static/validator-f3b00bc96d618","vidiprinter":"static/vidiprinter-e8c9174ecfa73","vm-suppression":"static/vm-suppression-9a7148a4170ba","web-notifications":"static/web-notifications-a91a27e944caf","widget":"static/widget-e29945f3a184a","widget-lite":"static/widget-lite-a450505656ea9","widget-loader":"static/widget-loader-a0232be50e094","window-observer":"static/window-observer-b10f792cfb582","your-say":"static/your-say-3b2bbc5fcf119"}});
require(['skysports_digrev', 'sdc-site-pub-sub'], function (appController, pubsub) { window.sdc = window.sdc || {}; pubsub.init(window.sdc);
appController.init(); });